Fall In Western North Carolina
Things To Do Asheville Area Sightseeing, Attractions and Adventures The Asheville area, named a must–see destination by Frommer's, boasts a thriving arts community, diverse outdoor adventures, a vibrant and inviting downtown, numerous historic and architectural attractions, and unique shopping options. By far the most sought after sightseeing attraction is the leaves changing color!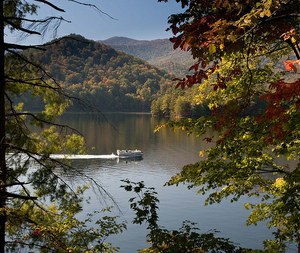 Beautiful Lake Lure day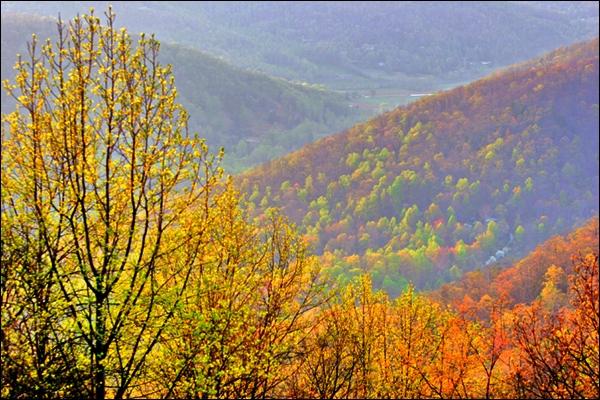 Colors are starting to turn in the higher areas of the Carolina Mountains.
The US Forest Service has launched a Leaf Viewing in Western North Carolina webpage for 2012 featuring scenic drives and areas in the Nantahala and Pisgah National Forests for enjoying fall foliage. Visitors to the site will see pictures and get directions to enjoy the kaleidoscope of glorious leaf colors North Carolina has to offer.
Leaf Viewing in Western North Carolina describes the types of mountain trees that visitors will see during peak season at high, middle and low elevations. For example, the Cherohala Skyway in Graham County enables travelers to enjoy a variety of colorful, high-elevation trees in late September.
Prominent trees in the South that turn brilliant colors include tulip poplar (yellow), hickory species (red), flowering dogwood (red), blackgum (scarlet) and numerous oaks (reds, yellow, scarlet). Evergreen trees such as pitch pine, as well as the abundant great rhododendron, provide a green backdrop interspersed with the colorful trees.
Where do all the colors come out? When temperatures cool in autumn, chlorophyll starts to degrade allowing the hidden pigments of deciduous trees to provide a rich, colorful display. This rich display typically starts at the highest elevation in late September and early October gradually progressing to the lowest elevation by late October and early November.