Summer Hunt Season Activities
Summer activities for both Green Creek Hounds and Tryon Hounds, come on in for a look and see what fun you can have as a rider, or social member with either hunt.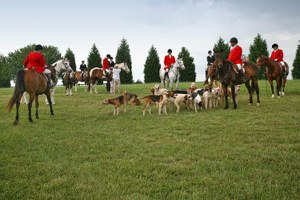 Summer Fun
Summer Hunt weeks are upon us!

Both Green Creek Hounds and Tryon Hounds have planned a summer activity for 2010.  They are fund raisers or jump starts for our fox hunting seasons.  For riding members and social members alike, it's a good time to start to thinking about the opening of the hunt season for 2010/2011.  
Green Creek Hounds, have already completed roading its young hounds, and cubbing season has began. So far the cubbing season has produced some great chases with coyote and fox being very abundant this season.  After a couple of weeks of cubbing under our hooves, we are nearing our summer hunt week.  The Green Creek masters have promised a long weekend of fun in mid August. Don't miss out whether you're a rider or just want to enjoy as a social participant please consider joining us.  
Green Creek Hounds - Sizzling Summer Soiree
Food, Fun and Fox Hunting
August 18 – 21, 2010 Tryon, NC

Please note:  This is a CASUAL event!  Anyone who shows up in Ratcatcher, let alone Formal dress, will be sent home!  Stockties will be shredded!  Tweeds will be confiscated! NO scarlet tails, tuxedos or gowns allowed at the Ball!  We really mean CASUAL!  Seriously – polo shirts for hunting, approved helmets for all mounted activity.  Casual beach attire for everything else.  Bring your shagging shoes!  (For you yanks – "The Shag" is the SC State Dance!)

The best deal for riders is $275 for the whole 4 days, all hunts, rides, parties and 'Ball'.
For non-riders there is a social package for $135, also includes 'Ball'.
Add the trail ride to the social package for $25. Or, you can pick and choose from the list below.

Date    Time    Activity    Location    Cost
8/18/2010
Wednesday    6 pm    Kick-Off Cocktail Party
Build your own Nachos
'Horse' Racing
Ping Pong Tournament    Yellow House
Landrum SC    $25
8/19/2010
Thursday    7 am    1st Hunt, followed by breakfast in the field *    TBD    $75
Later    Rest of the day free for shopping, etc…        
8/20/2010
Friday    9:30 am    Trail Ride with picnic lunch    TBD    $35
5:30 pm    Hound races with
Calcutta and BBQ cook out    FENCE    $35
8/21/2010
Saturday    7 am    2nd Hunt, followed by breakfast in the field *    TBD    $75
6:30 pm    Beach Ball featuring a great band, silent auction, open bar, super food    River Bend Resort
Fingerville, SC    $85
*Non-riders not signing up for a package may opt for one breakfast @$20 or 2 for $35
For further information, including stabling and lodging options, contact:
Emmie Osborne englishfoxhound@windstream.net or 864-680-3822
Limited number of places available for the ball....so

Tryon Hounds, have also been busy opening new territory and clearing new trails.  To kick off the season the masters of Tryon Hounds have decided to hold a kickoff party at their club house on August 22, 2010. A trail ride is planned at one is its more popular fixtures the Meadows at Campbell Creek in Gowensville.  The particulars for the event are as follows!  
We have planned a day of celebration for all to enjoy on Saturday, August 28th.  The day begins with a trail ride in Gowensville at the Meadows of Campbell Creek at 9:00 a.m. until 11:30 a.m.  Please come and enjoy the beautiful hunt country trails.  There will be "flights" for those who
want to take it slow, and a faster flight for those who want to move ahead.  The trail ride will be followed by a pitch-in.  Please bring a luncheon favorite to share.

In the evening, we will have our traditional "Kick Off Party" at the clubhouse beginning at 6:00 p.m.  Our menu will suit our hot weather, and will be provided by Stone Soup.  The cost per person is $15.00.  Please mail your checks to me made payable to Tryon Hounds.  My address is 274 Fox Covert Lane, Tryon, 28782.  In order to have sufficient food for all, I would appreciate it if you would RSVP to me by Saturday, August 22nd.

The following items will be served:

Black Eyed Pea and butternut squash salad with goat cheese
corn bread panzanella - made with tomatoes, peppers, onions, cucumbers, cornbread & basil
mixed green salad
chicken carbonnara with penne pasta

and, a special dessert!