Spring in Asheville
Gentle breezes, clear skies and gorgeous flowers are the hallmarks of springtime in Asheville. Rich in biodiversity, our region is home to hundreds, if not thousands, of species not found anywhere else on the planet. Get outdoors and see for yourself. Explore Asheville this spring and experience all of the outdoor wonders the Blue Ridge Mountains have to offer.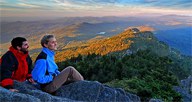 Gardens
Asheville's scenic natural landscape, favorable climate, and diverse citizens, instilled with a passion and respect for the land, make this region a mecca for all things green. From elegant grand estates to fun-meets-funky, this farm to table town is eager to educate. Asheville boasts some of the best garden centers in the Southeast, a top-notch arboretum, miles of hiking trails for wildflower and fall color jaunts, and a plethora of plant society shows.
Asheville's green love affair began in the late 19th century, when George W. Vanderbilt hired Frederick Law Olmsted, the father of modern American landscape architecture, to oversee the development of his new estate, Biltmore. Under Olmsted's keen advice, Vanderbilt hired a forestry manager to revitalize his land, thus setting into motion the first forestry practices in the country. Asheville, known as the Cradle of Forestry, continues to be on the cutting edge of horticulture in the Southeast.
Here, you will find just a sampling of what our area offers. You don't have to be an avid gardener to enjoy these venues, but beware: Gardening is addictive. Like many who frequent the area to get their green fix, you may find yourself planning your next trip back before you even leave!